Adult children are often faced with difficult decisions regarding their parents' care. Often, when a parent's health declines, he or she is resistant to the idea of moving to an assisted living facility—and with good reason. This is why home health care in Memphis and across the country is growing in popularity. While in -home care is often a better option for elderly parents than an assisted living facility, parents may still display some resistance to the idea. Continue reading for a few tips to help you and your parents with this transition.
Start the Conversation Early
Many adult children wait to discuss the idea of elder care with their parents until a serious medical problem has already occurred. Unfortunately, it can take some time for aging parents to adjust to the idea that they could benefit from receiving elder care services. It's advisable for adult children to begin the conversation early, while parents still have the ability to care for themselves. It's likely that the transition into home care will require many conversations over a period of months or perhaps years.
Use the Right Approach
Aging parents often pride themselves on their independence and their capabilities, even if those capabilities have begun to decline. When it is evident that a parent needs home care services, adult children should be careful to use the right pronoun. Instead of saying, "You need some help with meal preparation because of your arthritis," an individual could say, "I'm worried that you're losing weight. It would reassure me to know that someone was here to ensure you eat healthy meals each day." Some adult children may even decide to call a home care provider a "housekeeper" instead of a "caregiver" to bolster their parents' pride.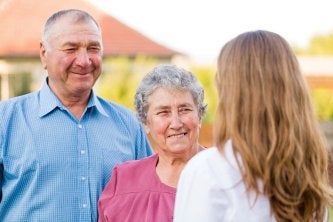 Introduce a Care Plan Gradually
Arranging home care solutions for aging parents doesn't always have to mean hiring a caregiver to be in the home 24/7, although this certainly can be arranged. It's often easier for aging parents to adjust to the idea of in-home care if they begin a care plan gradually. For example, adult children could arrange for periodic respite care when they're short on time. Later, a caregiver could provide services for just a few hours per week. As the elderly parents need more assistance, they could receive additional care.