"Rise in the presence of the aged, show respect for the elderly."-Leviticus 19:32
Home Care in Memphis, TN
Care assistance for People of all ages…at Home & in Facilities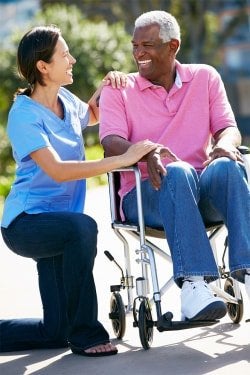 When your loved one falls ill or needs in-home elder care, it can be a very stressful and overwhelming experience to decide how to properly care for them. Even if you have the free time yourself, you may not have the necessary training and expertise to offer your relative the attention they need. At Caring Companions, we are dedicated to providing your loved one with the high-quality in-home care services that they deserve. Our professional in-home caretakers in Memphis TN are well-trained and compassionate, dedicating ourselves to meeting all of your at home nursing care needs as our client. Please contact our caretakers or call (901) 259-5030 to learn more about the in-home senior care services we offer in Memphis TN.
We offer the following disabled and in home elderly care services in Memphis TN :
Compassionate, Trustworthy, and Reliable Caretakers
The experience of having to look into home care for your loved one can be trying, but please know that you are not alone – we are here during this difficult time to offer you hope and support. At Caring Companions, we employ only the most compassionate and professional in-home elder caretakers who will truly go to great lengths to care for your relative. Whether your loved one has suddenly fallen ill and needs hospice care, senior care in Memphis we strive to make this process as simple as possible.
The following things set us apart from other companies:
Our home caregiver services are very flexible, available 24 hours a day 7 days a week
We are privately owned by caring professionals
The services we offer are personalized to your needs
Our company is State licensed, bonded, and insured
We have extensive experience in the industry
We provide a family environment
We are there to assist you in caring for your loved ones when life gets difficult. If you have any remaining questions about end of life in home care, please don't hesitate to get in touch with us directly at our Memphis location. A member of our knowledgeable team is available to listen to your concerns and provide you with more detailed information like, what is hospice care? For a free in-home estimate, contact our caregivers in Memphis at (901) 259-5030!
Why Choose Us?
Privately Owned
Personalized Service
Compassionate, Trustworthy & Reliable
State Licensed, Bonded & Insured
Extensive Experience
Family Environment
Serving Families for Over 28 Years