Respite Care Services in Memphis, TN – Take a Much Needed Break!
What is Respite Care?
In many situations, family members choose to care for their elderly or disabled loved ones themselves. Unfortunately, round-the-clock care and busy daily schedules can cause stress among family caregivers, especially since many people work full or part-time in addition to caring for their loved one. Caregivers often attempt to do everything by themselves, leaving them worn out and unable to fully attend to everything they need to do. Caregivers often have little time to themselves and only a few breaks.
Every moment of their day is occupied in some sort of work, and even their sleep may be interrupted with the needs of their loved one. At Caring Companions, we can provide respite care in Memphis, TN on either an on-call basis or at a weekly scheduled time. This allows you as a caregiver to get some much-needed time to yourself, to rest, relax, and tend to other to-dos in your life. Call us today to learn more about our respite care options or to set up an initial meeting about home care services.
Respite Care by Our Skilled Caregivers
Respite care is care designed to give a family caregiver a break from their duties. Our skilled caregivers can take over the care of your loved one to give you time to complete errands, relax, go out with friends, sleep, or do whatever you have not been able to do because of your care duties. We can help by providing the following:
Companionship, meal-preparation and medicine reminders
Light housekeeping and laundry
Assistance with bathing, dressing, toileting, and incontinence care
Transportation
Why is Respite Care Needed?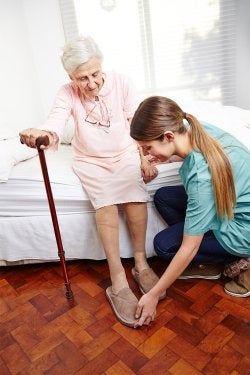 Respite care is necessary to give a family caregiver time to themselves. No one is productive if they are required to complete tasks around the clock. Caring for an elderly or disabled family member requires you to be available day or night when they need you. Without a break, a family caregiver can quickly become overwhelmed, but our respite care in Memphis, TN is here to help. We're able to provide care during the day, overnight, and even for multiple days or nights to cover a vacation out of town. We're also able to provide caregivers when your loved one is in the hospital, rehab, assisted living, or skilled care facility. Our disabled and elderly care in Memphis, TN helps to ensure the care and safety of your loved one. Our care and companionship will put them at ease during your absence, preventing any confusion or anxiety, and in turn, reduces safety and health hazards for your loved one.
Who Can Do Respite Care?
All of our caregivers at Caring Companions are qualified to complete respite care for patients in Memphis, TN. Often families use our in-home care for individuals transitioning home from the hospital after a procedure, for patients with dementia or Alzheimer's, and for those who need a helping hand around the home.
Who Qualifies for Respite Care?
Respite care is for anyone who provides regular care to their loved one. Caring for a family member is not always an easy task, especially when they require constant attention. Respite care is designed to give family caregivers time off from their caregiving responsibilities.
Why is Respite Care Important?
Respite care is important because it's essential to the well-being of both you and your family member to allow yourself some time off from providing care. Everyone needs time to themselves to preserve their mental, emotional, and physical well-being, and respite care allows you to do so. Think of it this way, if you are tired, mentally drained, and overwhelmed, you are not going to be about to provide the best care for your loved one. Taking time off helps you both by giving you a break and ensuring your family member gets the best care at all times. Our senior helpers in Memphis, TN will ensure you get the time you need to recharge.
What is the Difference between Respite Care and Hospice Care?
Respite care is care for anyone who needs a helping hand or companion, such as an elderly individual or a disabled person. Hospice care, on the other hand, is care designed for patients who are chronically or terminally ill, with a focus on attending to their emotional and spiritual needs. Caring companions does not provide hospice care. However, we can offer home care services in Memphis, TN to support a patient while they are currently under hospice care.
How Can My Family Get the Most Out of Respite Care?
Your family can get the most out of respite care by communicating with one another and keeping the family member involved in decisions about their care. Respite care is necessary to give a family caregiver time to themselves, but the person who needs care may think it unnecessary to hire someone for this. They may be opposed to the idea of a stranger in their home, viewing it as an invasion of privacy or a loss of freedom. It's vital that you allow your elderly or disabled family member to voice their concerns, but it is equally as vital to acknowledge their worries. However, you can also use this time to share why you would feel better if they had someone to help them out while you're away. Express the need for a caregiver as yours, instead of theirs. If you tell your family member that hiring a caregiver will allow you to worry less, they may be more willing to accept the help.
We understand and acknowledge the concerns you may have regarding home care services and strive to deliver reliable assistance when you need it most. Our services are available 24 hours a day, 7 days a week for your convenience. To request more information about our respite services in Memphis, TN, please contact us or call at (901) 259-5030.
Why Choose Us?
Privately Owned
Personalized Service
Compassionate, Trustworthy & Reliable
State Licensed, Bonded & Insured
Extensive Experience
Family Environment
Serving Families for Over 28 Years