Patient & Caregiver Needs In End Of Life Care In Memphis, TN
Patient and caregiver needs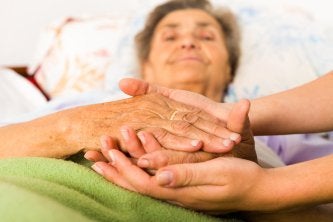 Practical care and assistance. There may come a time when your loved one can no longer talk, sit, walk, eat, or make sense of the world. Daily activities such as, bathing, feeding, toileting, dressing, and turning may require total assistance and increased physical strain on the part of the caregiver. These tasks can be supported by in-home care provided by quality, loving staff at Caring Companions.
Comfort and dignity. Even when a person's memory/dementia and cognitive functions have diminished, their capacity to feel loved or lonely, sad or secure, frightened or at peace remains.
Respite Care. Respite care can give you and your family a much needed break from the intensity of end of life caregiving. It will allow for the family caregiver to time to deal with the demands of their own personal life, meet with friends for support, watch a movie or simply have some quite time. Don't hesitate to ask your hospice care provider for volunteer support to relieve you, reach out to an in-home care agency or a brief stay in a hospice care facility for respite care.
Can you take care of a terminally ill person at home?
The following are some things to consider before making the decision to take on end of life care of a loved one at home.
What is your loved one's preferences for end of life care that include remaining at home with hospice care?
Do you have trustworthy, qualified and dependable support available to ensure 24-hour care?
Will the home where your loved one will be staying accommodate a hospital bed, wheelchair, and bedside commode?
Do you have quality hospice and palliative care staff on board to help you at home?
Are you physically able to lift, turn, and move your loved one?
Can you meet your other family and work responsibilities as well as caring for your loved one's needs?
Providing emotional comfort and support
Every person's emotional needs and responses in the final stages of life are different. However, many emotions are common to many people during end of life care. Your loved one may worry about loss of control and dignity as their physical abilities decline. It's common for people to fear being a burden to their loved ones and at the same time also fear being abandoned.
Family caregivers can offer emotional comfort to their loved ones in many different ways:
Letting your loved one know they are not alone. Talk to your loved one, read to him or her, watch movies together or simply sit and hold their hand. Even when you can't be there, a professional caregiver can give much needed tender loving care to assure your loved one a peaceful environment.
Don't discuss your feelings of fear, sadness and loss with your loved one. Instead, talk to someone else about your feelings.
Allow your loved one to express their fears of death. It can be very difficult to hear a loved one talk about physically leaving family behind, but communicating their fears can help them come to terms and deal with what is happening to them.
Take time to reminiscence with your loved one about their life. Talking about the good and bad times of a person's life and the past is another way some patients gain perspective on their life and the process of dying.
Avoid withholding difficult information. If your loved one is still able to comprehend, most people prefer to be included in discussions about issues that concern them.
Honor your loved one's wishes. Even if you don't agree with your loved one's wishes, by honoring their end of life decisions about their care you are allowing them to still have control of their life. Reassure your loved one that you will honor their wishes, such as advance directives and living wills, hospice decisions, etc.
A member from our knowledgeable team is available to listen to your concerns and provide you with more detailed information like, what is hospice care? For a free in-home estimate, contact our caregivers in Memphis at (901) 259-5030!
Why Choose Us?
Privately Owned
Personalized Service
Compassionate, Trustworthy & Reliable
State Licensed, Bonded & Insured
Extensive Experience
Family Environment
Serving Families for Over 28 Years