Caregivers need time for themselves in Memphis
Caring for Yourself
As impossible as it may seem at times, taking care of yourself during your loved one's final stages of life is critically important. Research shows family caregivers are more likely to experience despair, exhaustion and health related issues while caring for a sick or ailing loved one. While it is very fulfilling to personally care for your loved one, it is important to keep balance and share those duties with other family members and/or professional in-home care services. It's no secret: caring for a sick or dying loved one takes a huge emotional toll. One study found that as many as one in three caregivers rate their stress level as high, and half say they have less time to spend with family and friends.
When you're caring for others, it's critical that you first take care of yourself, and allow respite care to help you. Without proper rest, nutrition and relief from the daily caregiving duties you put yourself at risk of exhaustion, health problems and even total burnout.
Put your physical needs first
Eat nutritious meals. Don't give in to stress-driven urges such as too many sweets or overindulge in alcohol. Make sure to get enough sleep; if you have trouble sleeping at night, try napping during the day whenever possible. Find time to exercise, even if it means you have to ask someone else to provide care while you work out.
Set aside a minimum of 30 minutes every day for yourself. Do whatever you enjoy, whether it's reading, working in the garden, tinkering in your workshop, knitting, playing with the dogs, or watching the game.
Find ways to pamper yourself. Small luxuries can go a long way in relieving stress and boosting your spirits. Light candles and take a long bath. Ask your hubby for a back rub. Get a manicure. Buy fresh flowers for the house. Or whatever makes you feel special.
Make yourself laugh. Laughter is an excellent antidote to stress—and a little goes a long way. Read a funny book, watch a comedy, or call a friend who makes you laugh. And whenever you can, try to find the humor in everyday situations.
Get out of the house. Seek out friends and family as well as professional in-home care services to step in with caregiving so you can have some time away from the home.
Visit with friends and share your feelings. The simple act of expressing what you're going through can be emotionally healing. If it's difficult to leave the house, invite friends over to visit with you over coffee, tea, or dinner. Isolation can result in feelings of despair and depression, so it's important that you interact with others. Sharing your feelings won't make you a burden to others. In fact, most friends would be flattered that you trust them enough to confide in them, and it will only strengthen your bond with them.
Expectations of other family members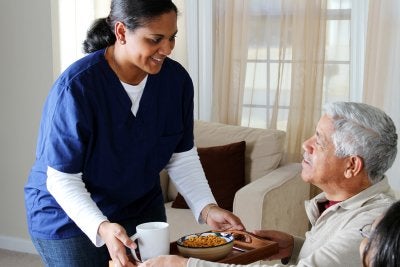 Not everyone has the natural gift of caregiving or dealing with the death of a loved one. Many times a family member's way of dealing with loss is to simply stay away. Don't spend too much time in turmoil over other family members not doing their share, instead reach out to friends, hospice volunteers, home health care and professional in-home care services to help you make time for you. Make a list of things you need help with including your own personal chores. Even when your relatives or friends can't help care for the actual family member, they may be able to run errands for you or perform household chores for you while you are caring for your loved one.
Don't let feelings of guilt stress you out
How often do you stress over something you should have done but didn't, or the reverse something you wish you hadn't said or done? Guilt is a feeling that you have fallen short of a certain standard. With today's demanding career and family obligations, it's not always possible to spend the amount of time with your loved one that they need. Family caregivers often feel guilt for feelings of frustration or losing their patience. Just as love and joy are normal emotions so are feelings of frustration, anger and impatience at times. A feeling of guilt can have either a positive or negative outcome. If you allow it, guilt can make you feel bad about yourself and breed anxiety, stress or even depression. Guilt can be a healthy and helpful motivator that can help you improve on your relationship with your loved one without feeling bad about yourself. Consider hiring an agency for elder care or in home care for the times you can't be there. A professional caregiver can relieve you of duties for your loved one such as housekeeping, meal preparation and transportation leaving your time with mom or dad spent as quality one on one instead of endless chores. Reach out to family and friends to go by and check on your loved one when you can't be there yourself.
Be easy on yourself…Be good to yourself; you are an irreplaceable link in this journey with your loved one. The time you have with your precious loved one is all that really matters. God is with you every step of the way.
A member from our knowledgeable team is available to listen to your concerns and provide you with more detailed information like, what is hospice care? For a free in-home estimate, contact our caregivers in Memphis at (901) 259-5030!
Why Choose Us?
Privately Owned
Personalized Service
Compassionate, Trustworthy & Reliable
State Licensed, Bonded & Insured
Extensive Experience
Family Environment
Serving Families for Over 28 Years