Comprehensive Transitioning Home Care in Memphis, TN
Choose Caring Companions for Transitional Home Care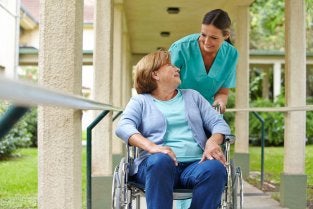 Transitioning from the hospital to home care is a challenge, especially if your loved one has been staying in a medical facility for an extended period. Fortunately, the team at Caring Companions understands the struggles that come with making this transition. The switch to home health care often involves added risks, such as increased chances of falling. While family members typically want to care for their loved ones, sometimes they find they don't have the skills to meet the physical challenges of home care. What's more, you may have too many other responsibilities to commit to being a fulltime caretaker. Here's where Caring Companions comes in. We can meet all your needs for transitional home health care in Memphis, TN. Our trained and experienced caregivers are dedicated to helping your loved one thrive as they recover from a hospital stay with home hospice care. Learn the numerous daily activities we can provide for your loved one.
Trusted to Provide Personal Care
As your loved one transitions back to living at home, you may be worried about their ability to care for themselves. For some people, everyday tasks such as dental hygiene and bathing become difficult. Fortunately, our team is here to make those activities much easier for your loved one. We'll help them bathe safely, and our team trained to assist individuals with dressing and using the toilet. We understand that many seniors feel ashamed at needing this level of care, so our caregivers are compassionate and trained to help with the psychological effects of a lack of mobility.
Helping to Keep a Clean Home
A clean home is a happy home, but your loved one may no longer be able to go about general housekeeping chores. The team at Caring Companions is always delighted to take care of those everyday housekeeping needs, from clearing the table after meals to vacuuming the floors.
We Handle Transportation to Appointments
Does your loved one have lots of doctor's appointments to get to? Perhaps you usually transport them back and forth. But these appointments can be difficult to fit into your work schedule. If your schedule doesn't allow for taking your family member to follow-up appointments, we can handle transportation as well. We understand that many seniors need to visit various doctors multiple times a week. This can make for a stressful experience for both you and your loved one. When our team handles all the transportation, you'll have peace of mind your family member is receiving the care they need.
Taking Care of Errands and Shopping
Running errands and going shopping gets more complicated as one gets older. Not only might seniors have less mobility to get around stores, but they also might have a hard time driving. The team at Caring Companions is always happy to run errands for our seniors who are transitioning to home care. We'll take care of all the items on their grocery list!
We Provide Help with Staying Active
Staying active is crucial, even for those entering their senior years. However, some individuals may have trouble safely exercising by themselves. If your loved one plans to be active after moving back home, our team can help them create a safe exercise regimen and assist them whenever possible during their workouts. We might go for a walk with your loved one or make sure they're doing certain moves safely and correctly.
Does Your Loved One Need Medication Reminders?
As your loved one makes the transition to home health care, they probably have many different medications to keep track of daily. Perhaps in the past, they've managed their own prescriptions, or maybe you've done the bulk of the work for them. This can be time-consuming, and it's essential that you don't make a mistake concerning the dosage. Allow Caring Companions to take this burden off your shoulders. Our trained caregivers will remind them when it's time to take their pills. Keep in mind, we cannot administer medications, although we can help with opening containers and reading labels.
Eliminating the Hassle of Cooking
Cooking is an enjoyable pastime for some, but an annoying chore for others. As we get older, mobility issues make cooking more difficult. If it's no longer safe for your loved one to use a hot stove, oven, or sharp knives, our caregivers can help out at mealtime. We prepare nutritious, home-cooked meals for our clients. Plus, we're happy to tailor our dishes to your loved one's needs and preferences.
Learn More About Our Team & Services
Transitioning from an extended hospital stay to home hospice care is a challenge for everyone involved. You might feel overwhelmed with the responsibilities of caregiving, and your loved one likely feels stressed and nervous as well. At Caring Companions, we strive to make the transition much easier for both you and your loved one. We work with numerous seniors across Memphis, TN, providing top-notch care and companionship. If your loved one needs a little extra attention as they return home, don't hesitate to reach out to our team. We'll provide you with an in-home consultation and further discuss your options. Contact us today to learn more or check out these five tips for transitioning to home care.
Why Choose Us?
Privately Owned
Personalized Service
Compassionate, Trustworthy & Reliable
State Licensed, Bonded & Insured
Extensive Experience
Family Environment
Serving Families for Over 28 Years