Comforting End of Life Care Services in Memphis, TN
Caring Companions can provide compassionate care during this difficult time in your life.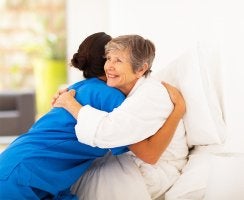 When a member of your family has been diagnosed with a limited life expectancy, he or she deserves to spend their final days in the comfort of their own home. However, this can be very physically exhausting and emotionally challenging to family members caring for their loved ones at home. At Caring Companions, we understand from our own personal experience of caring for our family during terminal illness, and our wish is to support you with loving care and comfort. The quality of understanding how another person feels and to be "in tune" with your needs is extremely important and forms the basis for all elderly care with the patient and family.
Our caregivers are spiritual people who want to serve families' who are caring for loved ones so that you can make the most of your limited time together. We can assist with care in the final stages of life with end of life care.
Our hospice care and nursing homes can help by providing the following:
Caring for your loved one so you can get a much needed break
Bathing, dressing, toileting and incontinence care
Food preparation
Light housekeeping
Laundry
Organizing personal items or moving belongings
Our team, in conjunction with a hospice agency or medical provider, is here to provide your loved one with comforting end-of-life assistance and offer you and your family support during this trying time.
If you would like to learn more about our end-of-life care services, please contact our Memphis center today or call us directly at (901) 259-5030!
Why Choose Us?
Privately Owned
Personalized Service
Compassionate, Trustworthy & Reliable
State Licensed, Bonded & Insured
Extensive Experience
Family Environment
Serving Families for Over 28 Years