Dementia and Alzheimer's Care in Memphis
Compassionate and Reliable Caregivers in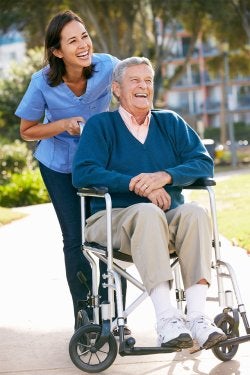 Caring Companions has 20 years of experience providing Dementia and Alzheimer's care in Memphis. Our caregivers are trained and experienced in Alzheimer's care and dementia. A person with Alzheimer's or other dementia doesn't have to give up the activities that he or she loves. Many activities can be modified to the person's ability. In addition to enhancing quality of life, activities can reduce behaviors like wandering or agitation.
Alzheimer's disease and other dementias gradually diminish a person's ability to communicate. Communication with a person with Alzheimer's requires patience, understanding and good listening skills.
Regular, nutritious meals may become a challenge for people with dementia. As a person's cognitive function declines, he or she may become overwhelmed with too many food choices, forget to eat or have difficulty with eating utensils. Our caregivers can prepare nutritious meals and cue your loved one to eat or assist in the feeding process when needed.
Music and art can enrich the lives of people with Alzheimer's disease. Both allow for self-expression and engagement, even after dementia has progressed.
We can help by providing the following home care services in Memphis :
Stimulate cognitive functioning through mental or physical activities
Nutritious meals
Medicine reminders and cueing
Incontinence care and toileting
Household chores and laundry
Transportation to medical appointments as well as social activities
Everyone needs a break. Respite care provides caregivers a temporary rest from caregiving, while the person with Alzheimer's continues to receive care in a safe environment from one of our loving caregivers in Memphis. Using respite services can support and strengthen your ability to be a caregiver.
Caring Companions is here to help you 24 hours, 7 days a week. Give us a call at 901-259-5030 or contact us on our contact page to request a free in-home consultation in Memphis for Dementia and Alzheimer care.
Why Choose Us?
Privately Owned
Personalized Service
Compassionate, Trustworthy & Reliable
State Licensed, Bonded & Insured
Extensive Experience
Family Environment
Serving Families for Over 20 Years