Compassionate Dementia and Alzheimer's Care in Memphis, TN
Caring for a loved one who's suffering from long-term health issues is stressful, time-consuming, and often emotionally tough to do. Also, caregiver burnout is a serious issue among friends and family members of the chronically or terminally ill, resulting in long-term effects to your life and those around you. Avoid this and provide the best care possible for your loved one by enlisting the help of Caring Companions.
We'll step in to take care of the day-to-day in-home or in-facility care of your friend or family member. We can help with medications and standard daily living tasks like bathing and dressing, and we'll be there to keep your loved one company while you're away.
 Specialized Care for Alzheimer's Patients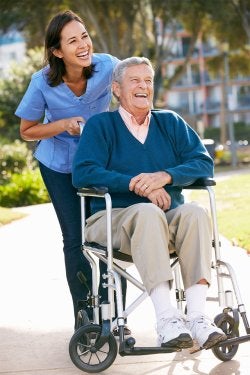 Alzheimer's disease is one of the toughest diseases to witness a family member endure. During a time when you feel like you don't have control over their health, you can have control over how well they're taken care of. Caring Companions can take daily tasks off your plate, making sure your loved one is cared for with compassion, patience, and love. Let us take these responsibilities off your daily to-do list, so you can simply spend time with your loved one when you visit. We provide:
Daily personal care, including bathing and grooming
Help with meal preparation, eating, and drinking
Identifying potential safety issues to maintain a safe environment
Help with ambulation in the home, in a facility, or in public (doctor's visits, etc.)
Transporting to medical appointments, pharmacy, therapy, or other events
Provide regular check-ins with family to manage care as the disease progresses
Provide mental stimulation, engaging conversation, and respect for the patient on their best and worst days
Complete light household tasks as needed (including pet care)
Contact us to see how we can help your loved one experience the most out of life during this difficult stage.
Specialized Care for Patients with Dementia
Dementia care is different than Alzheimer's care in that the disease affects patients in extremely different severities. Some affected patients need help with small tasks like cooking and cleaning, while others require assistance with every task from wake up to tuck in. We'll meet with you to discuss your loved one's needs and continue to adjust those services as the disease progresses.
 Caring Companions Can Help
We offer both short- and long-term care for your loved ones, depending on their (and your) needs. While we specialize in elder care, we are trained to care for patients of any age. We do not provide medical care—meaning we're not doctors and nurses—but we are trained to help with daily tasks and standard living care, and we can help with administering medications prescribed by a doctor.
Take some stress off your plate while ensuring your loved one is cared for with respect and compassion. Call us today. We're here to help you help your loved ones.
Caring Companions is here to help you 24 hours, 7 days a week. Give us a call at 901-259-5030 or contact us on our contact page to request a free in-home consultation in Memphis for Dementia and Alzheimer care.
Why Choose Us?
Privately Owned
Personalized Service
Compassionate, Trustworthy & Reliable
State Licensed, Bonded & Insured
Extensive Experience
Family Environment
Serving Families for Over 28 Years