About Caring Companions
Non-Medical Home Caregivers in Memphis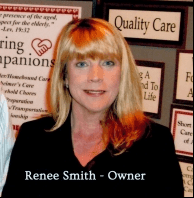 Caring Companions has been providing reliable/trustworthy service in the Memphis area for 28 years. Renee' Smith is Owner/Operator of Caring Companions, and has gone through the personal experience of caring for loved ones in her home. She has personally experienced what it is like to care for loved ones whose health is declining, ultimately leaving their physical bodies and crossing over to go home. "When I speak to family members who are at wits end, I connect with them on a soul level and feel their pain." Caring Companions is a family-owned business offering unique, personalized, non-medical home services to benefit people of all ages. We understand, acknowledge, and share the concerns and fears of those needing short or long term care. We understand and realize the importance of providing reliable, trustworthy in-home assistance to your loved one. Each one of us over the course of our lives will need a "helping hand" to maintain an independent lifestyle. Caring Companions provides help through patient, compassionate, and kind-hearted employees who represent this Company.
We Are There For You During This Difficult Time
When life takes a sudden turn, we are there to assist you in caring for your loved ones. The staff of Caring Companions makes understanding your in-home care options easy.
Our staff is ready to listen to your concerns and your burdens, discuss your options, answer your questions, arrange for services and discuss rates. Home care services are available 24 hours a day 7 days a week. Service can be initiated and assessment arranged almost immediately after your first phone call to us. Assessments can be scheduled around your work schedule; we can meet with you either after your work hours or on weekends.
Please know you are not alone: support, compassion and hope is with you always.
A member from our knowledgeable team is available to listen to your concerns and provide you with more detailed information like, what is hospice care? For a free in-home estimate, contact our caregivers in Memphis at (901) 259-5030!
Why Choose Us?
Privately Owned
Personalized Service
Compassionate, Trustworthy & Reliable
State Licensed, Bonded & Insured
Extensive Experience
Family Environment
Serving Families for Over 28 Years