When a loved one is first diagnosed with a serious illness, it's common for families to meet with specialists, explore treatment options, and consider clinical trials. At a certain point, healthcare providers may inform the patient that the treatments aren't working and that he or she is not a candidate for other curative options. This doesn't mean that the patient will no longer receive care; however, services will transition from curative treatments to palliative care. End-of-life care is often provided by Caring Companions in Memphis, who may be working in conjunction with a hospice care program.
Care Team
An end-of-life care team is typically comprised of many different professionals. A patient may have elder care companions who provide services such as light housekeeping, meal preparation, companionship, and personal care. Nurses from the hospice care program can visit the patient's home to assess his or her needs and determine how to improve quality of life . The hospice team may also include social workers, trained volunteers, spiritual counselors, or members of the clergy.
Palliative Care
The hospice care team provides palliative care, which can take many different forms. Palliative care does not focus on treating the condition; rather, it is intended to manage symptoms to provide greater comfort at the end of life. A nurse can help the patient manage his or her pain and other symptoms. He or she may provide prescription medications or medical supplies for symptom management. For example, if a patient can no longer get out of bed to go to the bathroom, the nurse can insert a catheter that will stay in place and drain into a special bag.
Family Support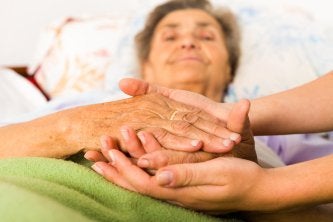 An important component of end-of-life care is support for the whole family. A hospice care team can offer the family practical assistance and psychological counseling. For instance, a hospice nurse can instruct family members on how to properly set the controls on oxygen therapy equipment, how to lift and transfer the patient, and how to administer medications. A spiritual or psychological counselor can be there to offer emotional support to family members as they struggle to cope with anticipatory grief during their loved one's illness and the grieving process after the passing.