If you have learned that your spouse has a life-threatening disease, you may be wondering what to do next and how to talk about terminally ill caregiving near Memphis . Discovering that your spouse has a terminal illness will mark the beginning of a powerfully emotional process for both of you. Talking about end-of-life care is often difficult to do, but is an essential part of the hospice care process.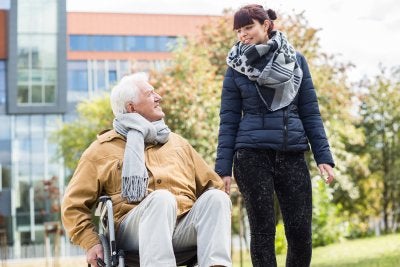 Reach Acceptance
After first learning about your spouse's illness, you may both find yourselves in denial and experience difficulty accepting the situation. Some people react by ignoring the news for a while, and others jump into action, seeking out potential cures and experimental treatments. Procedures and medications can sometimes provide a respite for you and your loved one to enjoy more time together, but your loved one's condition may become terminal, and their passing will draw nearer. At this point, there are several things you can do to make the time your spouse has left more comfortable.
Share Emotions
You will both be dealing with many feelings and reactions throughout your loved one's illness. Allow for each of you to speak with each other, family members, medical professionals, and counselors as needed. It's also important to make time to express your care for your spouse, offer any necessary forgiveness or apology, and to say goodbye.
Discuss Death
Talking about death is difficult for most people, and your loved one may resist this conversation initially. This is also the time to discuss practical matters, such as living wills, do-not-resuscitate orders, and health care power of attorney. Depending on your spouse's illness, hospice services may be beneficial for both of you. Talk to hospice workers to learn if this type of care is right for your spouse's situation. Additionally, ask your loved one what they need and want at this stage, and learn how you can make his or her passing as comfortable as possible.